When my wife and I moved from Bozeman to Billings at the end of 2015, it was a struggle. Not for the reasons our Bozeman friends said it would be. We were easily able to maintain our active lifestyle here in Billings. Our weekends still consisted of mountain biking, backpacking, climbing, fishing, trail running, skiing and all manner of outdoor activity. It was a struggle because we couldn't seem to find anyone to connect with. Without that connection to people, it was impossible to connect to the community. We tried all the typical methods of meeting people that worked great in the other 13 places I've lived, but nothing really seemed to stick. We knew if we couldn't find that connection soon, we weren't going to last long here.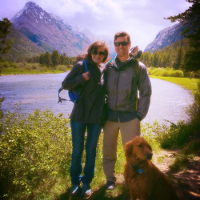 That was the motivation for starting Sportsball. We wanted to create an environment that would attract fun people who were interested in meeting others in a novel way. We wanted it to be inclusive, accessible, affordable and memorable. We wanted it to help others who were in situations similar to ours to build connections to other people and grow roots in this community. So far, that's exactly what it has been!

Sportsball is an adult (21+), co-ed, recreational sports and social club for people who want to get active, hang out and have fun. We facilitate and organize friendly, non-serious, goofy sports leagues that play awesome games like flag football, floor hockey, trampoline dodgeball, innertube water polo, ultimate frugby and more. After each game, we head to the bar where teams share free pitchers of beer. Our participants are a complete cross-section of the community. We have business owners, healthcare professionals, university professors, engineers, sales people, construction workers, lawyers, social workers and so many more. Participants are able to register individually, with a group of friends or as a whole team.

However, I'll let you in on a secret. People tend to think we're a sports club, but that's just a facade. Participants usually sign up because they're interested in whichever league we're offering at the moment; they come play with their team and have a great time; they head to the bar after their game to share their free pitchers with their teammates all the while never suspecting that this entire situation has been an elaborate ruse to get them into this exact position. This is where Sportsball truly begins and where the intent of the league is fulfilled. Participants begin to share their pitchers while discussing great catches, hilarious goofs, and epic plays. Then they refill their pitchers and begin chatting with other teams about how their games went. Next people start asking each other where they're from, what they do and what their weekend plans are... It's a setup. A misdirection. A sleight-of-hand. All in the name of building friendship and community. Most of our veteran players have caught on and now sign up for each league regardless of the sport because they know it's not a sports club, it's an active social gathering.